Al's Village Pizza and FHS Female Athlete Of The Week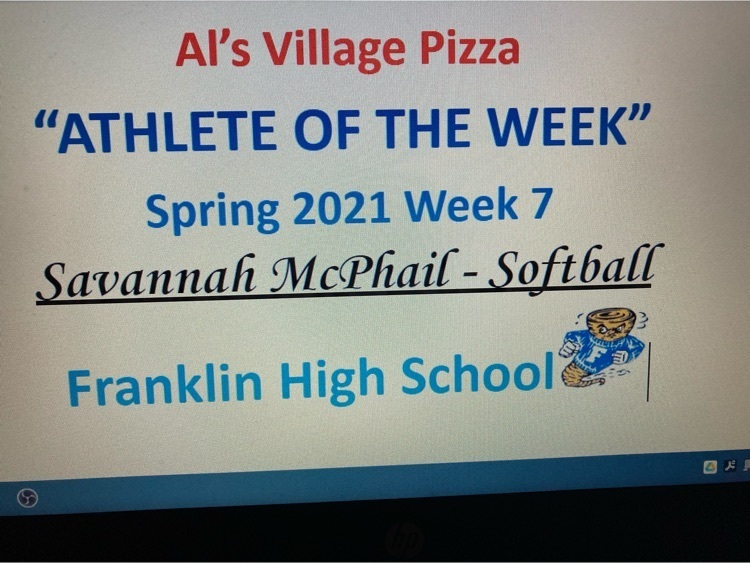 Dear Franklin Families, I have received updated mask guidance from the New Hampshire Department of Health and Human Services (DHHS) regarding outdoor mask usage. I have included a link below to their latest guidance document. Please refier to this website for details.
https://www.dhhs.nh.gov/dphs/cdcs/covid19/documents/school-call-presentation-060221.pdf
The guidance recommends that masks no longer need to be worn outside in the school setting regardless of a student or staff member's vaccination status (slide 11 of the guidance document below.) The guidance does suggest we continue to social distance outside to the extent possible. Effective at the end of the day today, per the DHHS guidance, we will no longer require staff or students to wear masks while in an outdoor school setting. This includes recess, athletics, after school outdoor events such as the prom this Saturday night, outdoor graduations, parades etc... Our mask policies remain unchanged in the indoor setting. Masks will still be worn by all indoors when 6 ft. distancing cannot be maintained. Please let me know if you have any questions. Sincerely, Dan LeGallo SAU 18 Superintendent

Good Afternoon Franklin Families, As you are aware, the Class Day Parade was canceled this year due to the pandemic. The primary concern, confirmed after consultation with the Department of Health and Human Services (DHHS), was the need to fill our buses to transport our elementary and middle school students to the high school and back for the parade. I am pleased to let you know that at the School Board meeting last night, the Board approved 3 parades, one at each school, to celebrate our student's achievements this school year. This has been approved by DHHS as well as by the Franklin Fire Chief and Police Chief. The middle school parade will be on Thursday, June 10th at 12:00. The parade route will be from the school, down Sanborn Street to Bessie Rowell Community Center and back up to the school. The elementary school parade will be on Monday, June 14th at 1:00 on the school grounds. The high school parade will be on Wednesday, June 16th at 12:30. The parade route will be the traditional Class Day parade route from the high school down Central Street to Greviors Furniture and back to the school. I welcome you all to come out and celebrate the 20/21 school year with our students and staff at these events. Sincerely, Dan LeGallo SAU 18 Superintendent

Today's varsity softball Sr Game has been moved to 4:00 because of weather

Congrats Elizabeth!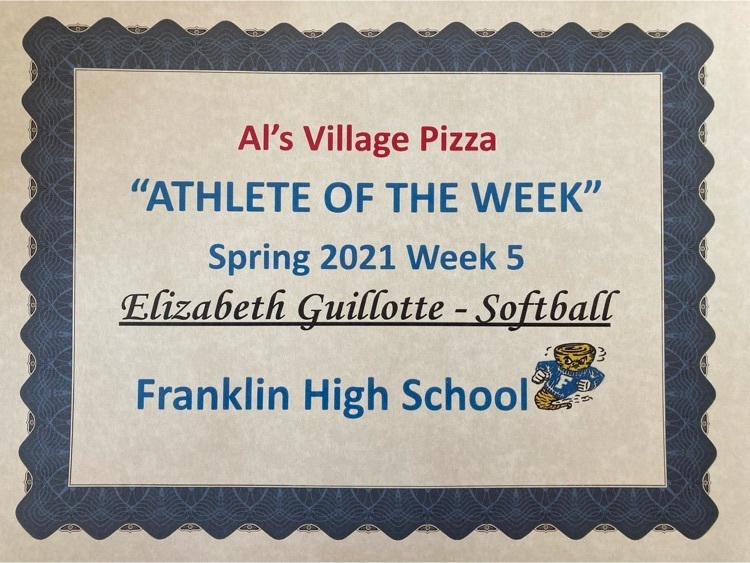 Congrats Pierre!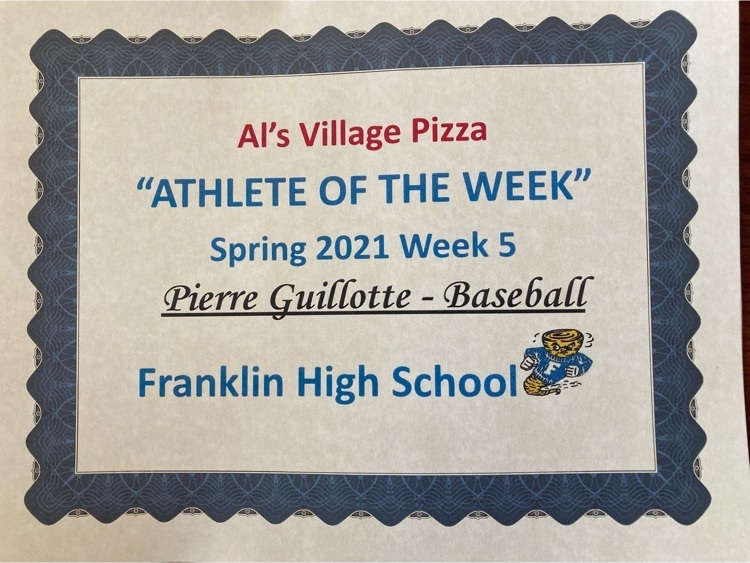 Congrats Jonathan!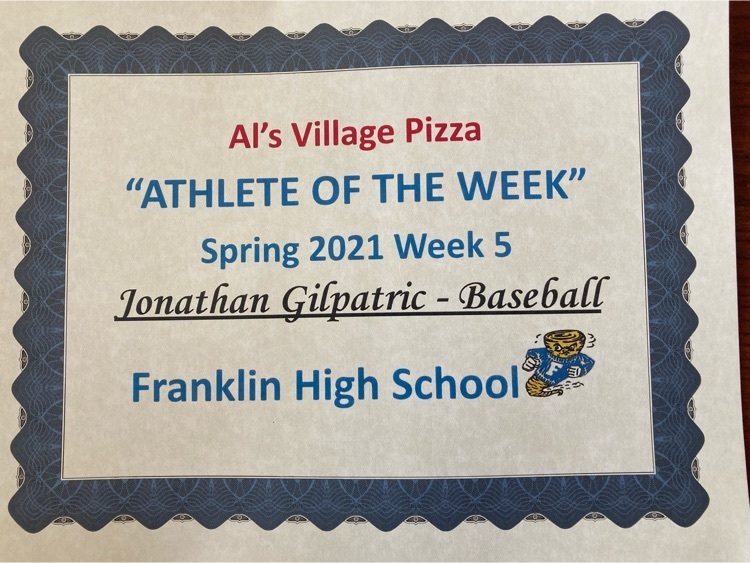 Lady Tornadoes victorious today vs Pittsfield 23-10!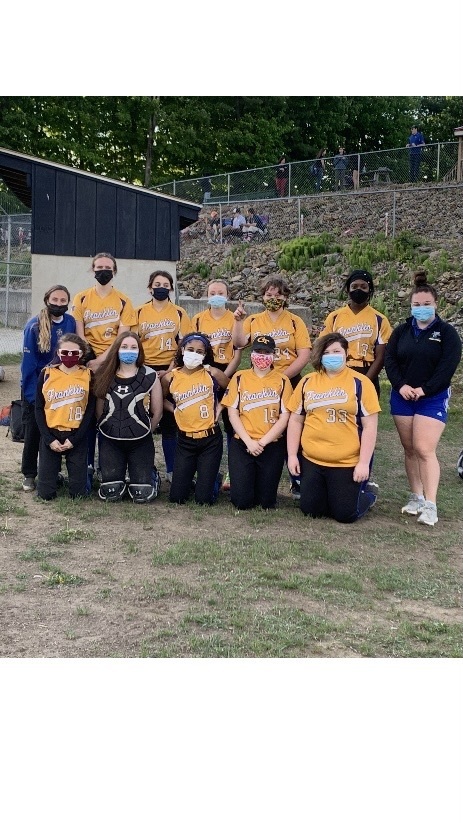 Congrats Lizzy!!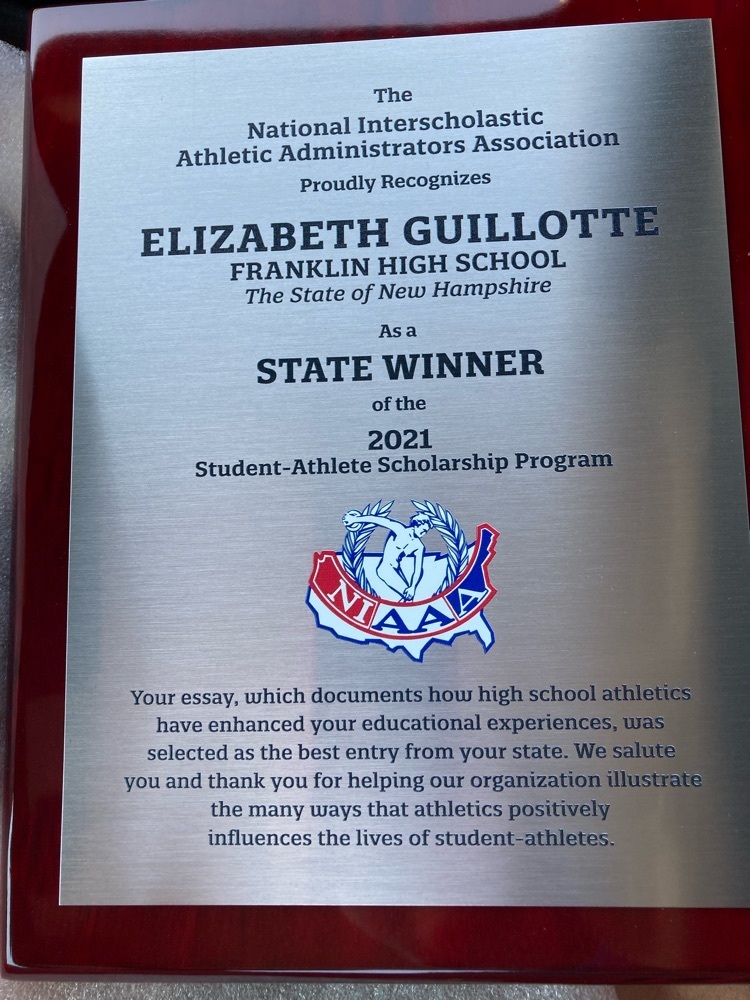 The following notice is for FMS Families from the Winnipesaukee Public Health Network: Good Afternoon, Please find attached the information parents/guardians in your school district will need to register their children to be vaccinated against COVID 19. This clinic is being delivered as a collaborative effort between, NH-DHHS, Winnipesaukee Public Health Network and Walmart. The distribution for this email today is school superintendents and school nurses. Parents can schedule their child(ren) for dose two at the same time they schedule for dose one. We will also vaccinate parents who register to be vaccinated. The registration portal is open for immediate registration. The private code is exclusive to this clinic and is needed to access the clinic in the Vaccine Administration Management System (VINI). The public cannot see this clinic location in VINI, therefore public cannot register into our clinic. Please not to share the private code with the public. Forms: Unaccompanied Minor Form:
https://drive.google.com/file/d/1cavC68K7mPoFws7GeF73oyJC7CE0d0_e/view?usp=sharing
Administration record and Informed Consent:
https://drive.google.com/file/d/1Zw4ftEnmE1y4cURhKyitZvgNWOFGAo6Z/view?usp=sharing
Registration:
https://drive.google.com/file/d/14L49R8ldIB4zwxXRtk0cj8H71xfp7ojv/view?usp=sharing

Due to a state wide issue with the online testing portal, our scheduled testing for today at FMS and FHS has been rescheduled to tomorrow (Weds., May 19). Emails will be sent to families.

Dear Franklin Families, We had a middle school student test positive over the weekend. Contact tracing and notifications have been completed. Thank you for your continued support and assistance in keeping students and staff healthy and safe.

Good Afternoon Franklin Families. I have been notified of a student at the elementary school testing positive today for COVID-19. Contact tracing and notifications have been completed. I hope everyone has a safe and healthy weekend.

Good Morning Franklin Families, I am writing to you today to update you on where we are with changing the schools start and end times for the 21/22 school year. After surveying our families earlier this year and answering the questions that were submitted from the survey, I will be recommending the changes below at the School Board meeting on Monday night. Elementary School: Drop off 7:15 Instructional day start 7:40 Dismissal: 2:00 Middle School: Drop off 8:05 Instructional day start 8:25 Dismissal 3:05 High School: Drop off 8:10 Instructional day start 8:30 Dismissal 3:15 Based on the feedback we received from our survey, I am working with the Rec Center and the Boys and Girls Club to make sure we have quality child care available for our families that need it. We also are planning an after school tutoring program at the elementary school and a before school tutoring program at the middle school to address learning loss for students due to the pandemic. Please know that this change is supported by research and is being considered to assist in our efforts to improve student achievement in the Franklin School District. As always, please don't hesitate to reach out to me with questions or feedback. Sincerely, Dan LeGallo SAU 18 Superintendent

Good Afternoon Franklin Families, I have been notified that a fully remote middle school student tested positive today for COVID-19. Contact tracing has been completed and no close contacts were identified. Thank you for your continued support in helping to keep everyone safe and healthy. Sincerely, Dan LeGallo SAU 18 Superintendent

Al's Village Pizza and FHS Male Athlete Of The Week: Freshman OWEN HANNIGAN - Baseball

Al's Village Pizza and FHS Female Athlete Of The Week: Freshman VICTORIA KELLY - Track & Field

Good Morning Franklin Families, I was notified this morning of an incident that occurred after school yesterday involving a school bus. The bus was a Winnisquam bus that was dropping off the Franklin High School HUOT students at Franklin High School. A bowling ball crashed through the window of the bus while the driver was on the way back to dispatch. The driver was not injured and there were no students on the bus at the time. The incident is under investigation by the Franklin Police Department. Sincerely, Dan LeGallo SAU 18 Superintendent

Good Afternoon Franklin Families, I have been informed of three students testing positive of COVID-19 today at the elementary school. For the first case, all close contacts have been identified and notifications have been completed. The 2nd and 3rd cases are associated and were expected. There are no close contacts identified as the students have been out of school since before vacation. We are all set for in-person school tomorrow. Sincerely, Dan LeGallo SAU 18 Superintendent

Today's FHS softball and baseball games have been canceled