Covid cases for Franklin School District week of 9/19-9/23 Elementary School: 1 staff member 5 students Middle School: 3 staff members 1 student High School: 2 staff members 11 students

JV soccer game at Woodsville today has been CANCELED.

9/23/22 Dear Franklin Families. I am reaching out to inform you that we had an incident at the middle school today that required us to evacuate the building. The Franklin Fire Department arrived on site and after checking the building, gave us the all clear to return safely into the building. I want to commend the students and staff at the middle school for how they handled the disruption to their day. Sincerely, Dan LeGallo SAU 18 Superintendent
dlegallo@gm.sau18.org

The middle school field hockey and soccer games today have been CANCELED. No reschedule as of yet.

Principal David Levesque and Athletic Director Dan Sylvester accept the Division IV Sportsmanship Championship Banner….congrats to our athletes, coaches, staff and the community of Franklin!!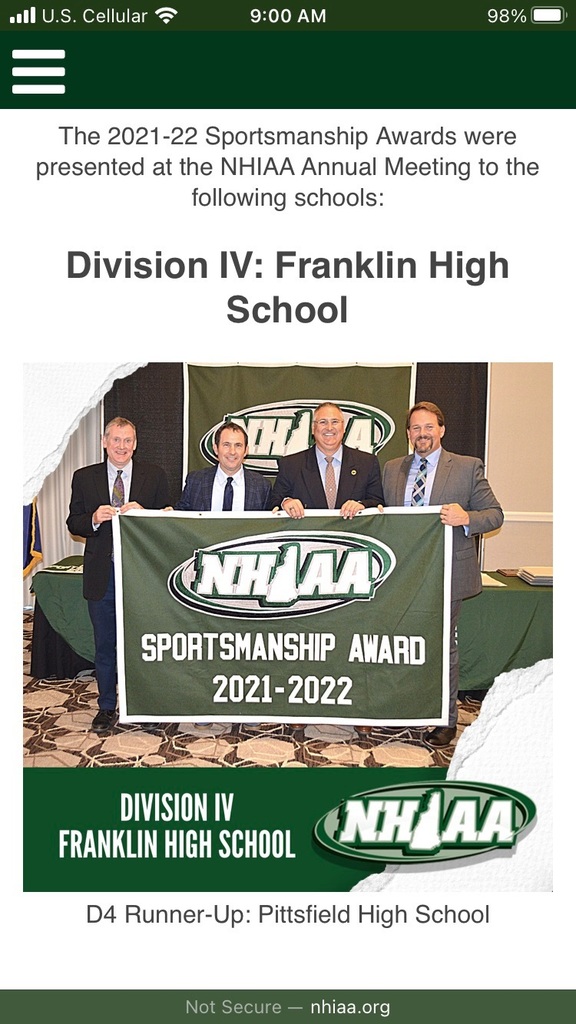 The middle school soccer game and high school field hockey game have been CANCELED for today due to weather. Here is the practice schedule in the FHS Gym today: 3:30-5 fhs soccer, 5-6 FMS football, 6-7:30 fhs football (chalk talk 5:30-6)

Happy First Day of School to all Students and Staff! Welcome!

Good Morning! - Please don't forget that tonight is National Night Out in Odell Park from 5:00 pm - 8:00 pm. The Franklin School District's Office of School Wellness will be handing out popcorn. Hope to see you there!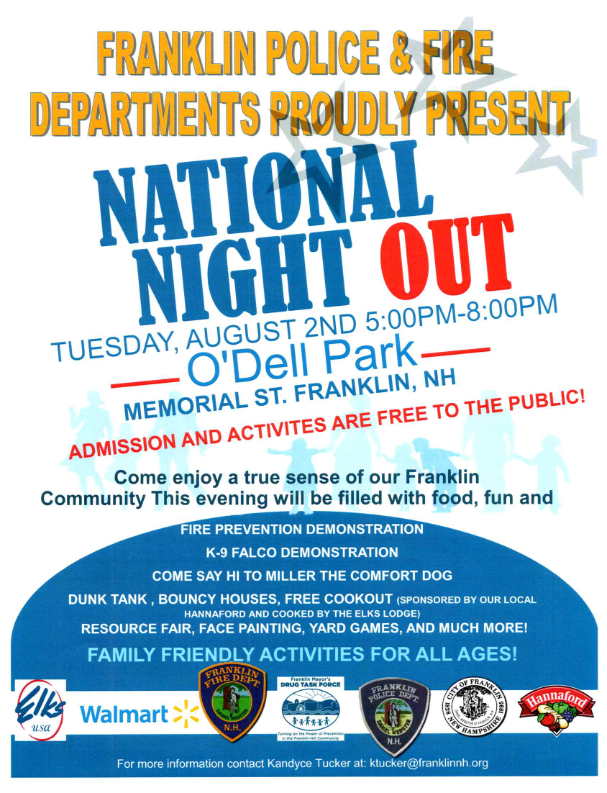 Dear Franklin Families, I hope your summer vacation is off to a great start! I am reaching out to remind you that summer school starts next Tuesday, July 5th for Elementary and Middle School Students. The High School will start July 6. NOTE: For High School Summer School only: Wednesday Thursday classes will begin on Wednesday, July 6th. Monday, Tuesday classes will begin on Monday , July 11th. The middle school start time is 8:00. The elementary start time is 8:20. The high school start time is 8:30. We will be posting bus routes to our website today for students who will be using bus transportation. I hope everyone enjoys the 4th of July weekend! Sincerely, Dan LeGallo SAU 18 Superintendent
dlegallo@gm.sau18.org

Dear Franklin Families, I have been informed that 1 middle school student and 2 high school staff members tested positive for Covid-19 this past week through today. Close contact notifications have been made. As we head into the last day of school tomorrow (1/2 day early release) I would like to thank all of our families for their support during this school year. I hope everyone has a great summer and stays safe and healthy. Sincerely, Daniel LeGallo Superintendent of Schools - SAU 18
dlegallo@gm.sau18.org
It takes a village." With the Franklin High School Class of 2022 set to graduate this evening, they would like to take a moment to thank some community partners who made direct donations to the class. These funds helped cover or offset costs for various end of year events such as the prom and class barbecue. Thank you to Hannaford, Mojalaki, May Garden, Grevior Furniture, the Franklin Cafe, American Fiberglass, General Properties, and Stencils Online for your support of our seniors!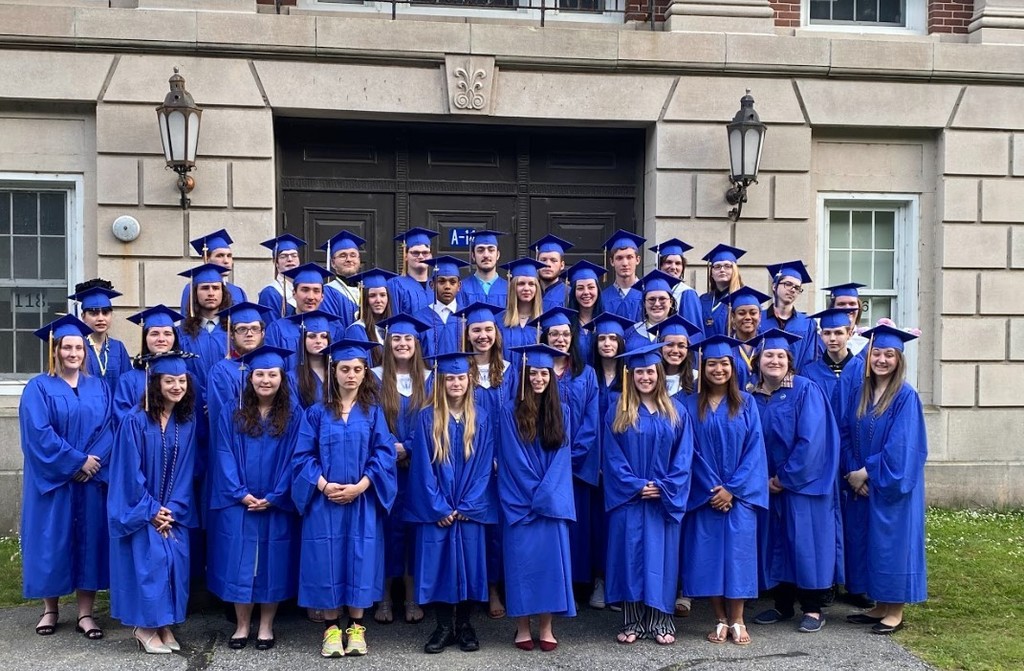 Good Evening Franklin Families, I hope everyone enjoyed the class day parade today! It was great to see all of the smiles on the students and especially our graduating seniors. Thanks to all who were able to come out and celebrate with the kids and staff! For my weekly Covid update, I have 11 Covid cases to report this past week. 4 middle school students, 3 high school students and 4 high school staff members tested positive for Covid -19. Close contact notifications have been made. I will update you again next week. I would like to thank all of our families for their support as we have continued to manage our way through the pandemic together this year. I know it hasn't been easy and I want you to know how much you are appreciated. Sincerely, Dan LeGallo SAU 18 Superintendent
dlegallo@gm.sau18.org

Good Morning - Students who ride the bus from Hill Road or Webster Lake Road will be picked up about 15 Minutes late this morning. Sorry for any inconvenience. Thank You

Good Afternoon Franklin Families, I am writing to you today to introduce you to our 3 new school principals for the 22-23 school year. They will officially assume their positions on July 1st. Mr. Dave Levesque will be taking over for Principal Charette at Franklin High School. Mr. Levesque comes to us with 11 years of administrative experience in the Laconia School District as a high school assistant principal and elementary school principal. Ms. Ginny Everett will be taking over for Principal Darsney at Franklin Middle School. Ms. Everett comes back to Franklin where she served as a high school English teacher and District curriculum coordinator. She has served the past 5 years as the assistant principal at the Linwood School in Lincoln. Mr. Robert Laroche will be taking over for Principal Blair at the elementary school. Mr. Laroche has 14 years of experience as an elementary school principal both in Massachusetts and New Hampshire. All 3 Principals will be reaching out to our families in July to schedule meet and greets with students and parents. My sincerest gratitude to Principal Charette, 20 years of service in Franklin, Principal Blair, 5 years of service in Franklin and Principal Darsney, 4 years of service in Franklin, for their contributions to the school district and community of Franklin. Sincerely, Dan LeGallo SAU 18 Superintendent
dlegallo@gm.sau18.org

Dear Franklin Families, I have been notified of 6 Covid cases this past week and today. 1 elementary school student, 4 middle school students and 1 middle school staff member tested positive for Covid-19. Close contact notifications have been made. I will continue to update you weekly. Sincerely, Dan LeGallo SAU 18 Superintendent
dlegallo@gm.sau18.org

On Friday, June 3rd, due to the efforts of our Music Teacher Michaela Kosta, FMS students in Grades 4-6 were treated to a "Live 5-Piece Woodwind Ensemble." We want to thank our performers: Sarah DePorter - Flute, Anne Levergood - Oboe, Mark DeTurk - Clarinet, Sarah Kuhn - Horn, Michaela Kosta - Bassoon. Here's a link to the performance:
https://youtu.be/CqfXK1Hy314
More Pics:
https://photos.app.goo.gl/jQbwqKG111ov17N49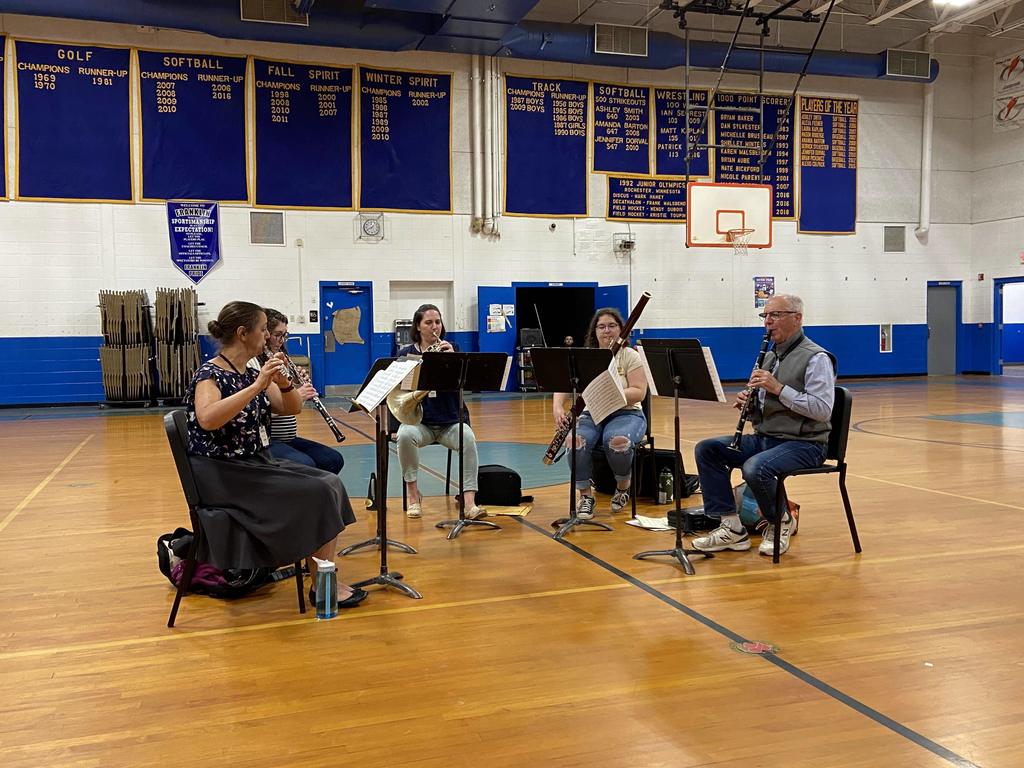 Good Afternoon Franklin Families, I have been notified of 10 Covid cases this past week.. 1 elementary student, 8 middle school students and 1 high school staff member tested positive for Covid-19. Close contact notifications have been made.. I will continue to update you weekly on case counts in the school district. Sincerely, Dan LeGallo SAU 18 Superintendent
dlegallo@gm.sau18.org

Tonight is the Night!!! Franklin Middle School Family Night!!! Title 1 Presentation, and Book Fair!!! Concert 6 p.m. Gym Book Fair 4:30-7:30 Pulled Pork, Coleslaw, Watermelon, BBQ! 4:30-5:30 (Free of Charge to FMS Students and Their Families!!) Title 1 Presentation 5:00 Please Join Us! Can't come? YouTube
https://bit.ly/3cX4stm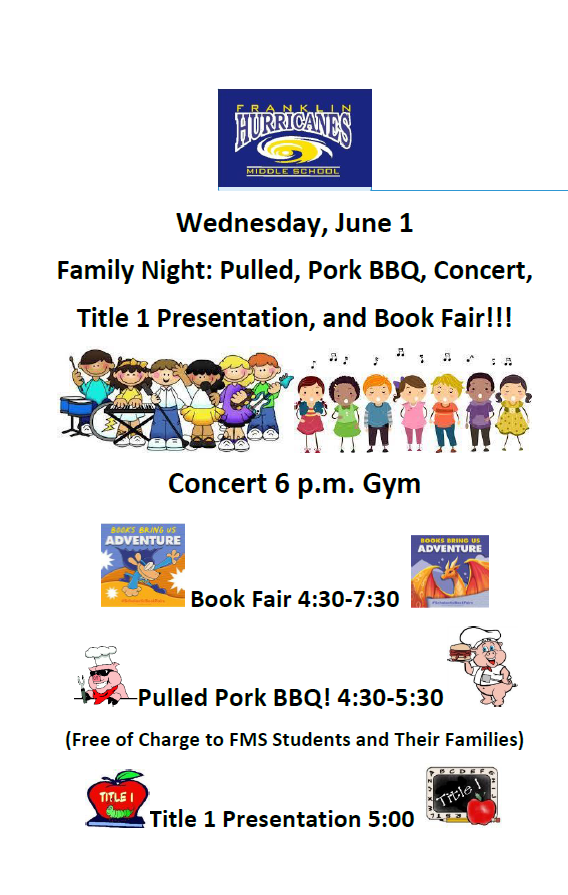 Dear Franklin Families, I am sure you are aware of the heartbreaking tragedy that occurred in a Texas school yesterday afternoon. Every parent's worst nightmare came true for 19 elementary school students. In response to this, we have police officers at all 3 schools today for extra security and to reassure students. We also have our counselors on alert to help students who need assistance processing their emotions in response to this horrific and traumatizing event. Please feel free to reach out to the schools if you sense that your child/children need some support. As always, it takes a village to safely raise and educate our children and you are a valued member of our village. Sincerely, Dan LeGallo SAU 18 Superintendent
dlegallo@gm.sau18.org

Good Morning Franklin Families, I am reaching out to let you know that I have been notified of 13 Covid 19 cases this past week through yesterday. 1 elementary staff member, 3 elementary students, 3 middle school staff members, 4 middle school students, 1 high school staff member and 1 high school student tested positive for Covid -19. I will continue to keep you updated each week on our case counts in the school district. Please feel free to reach out to me if you have any questions. Sincerely, Dan LeGallo SAU 18 Superintendent
dlegallo@gm.sau18.org