Good Afternoon: Bus 806 will be about 20 minutes tomorrow morning for food distribution.

Dear Franklin Families, We have completed our contact tracing process and all notifications have been made for our positive staff member case at the elementary school from yesterday. Thank you for you patience as we worked through the process. I hope you enjoy the rest of your weekend. Sincerely, Dan LeGallo SAU 18 Superintendent
dlegallo@gm.sau18.org

Dear Franklin Families, I have just been notified that a staff member at the elementary school has tested positive for Covid-19. We are initiating the contact tracing process. I will let you know when we have completed the process and notified all close contacts. Sincerely, Dan LeGallo SAU 18 Superintendent
dlegallo@gm.sau18.org

Al's Village Pizza and FHS Male Athlete Of The Week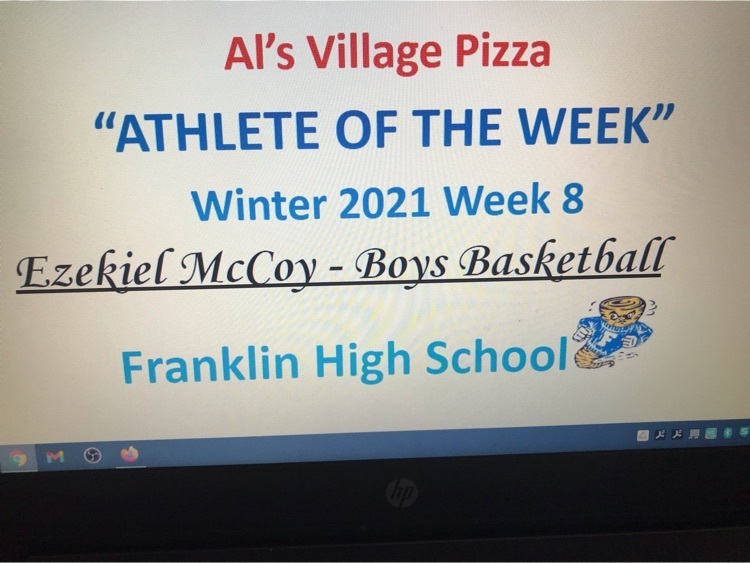 Al's Village Pizza and FHS Female Athlete Of The Week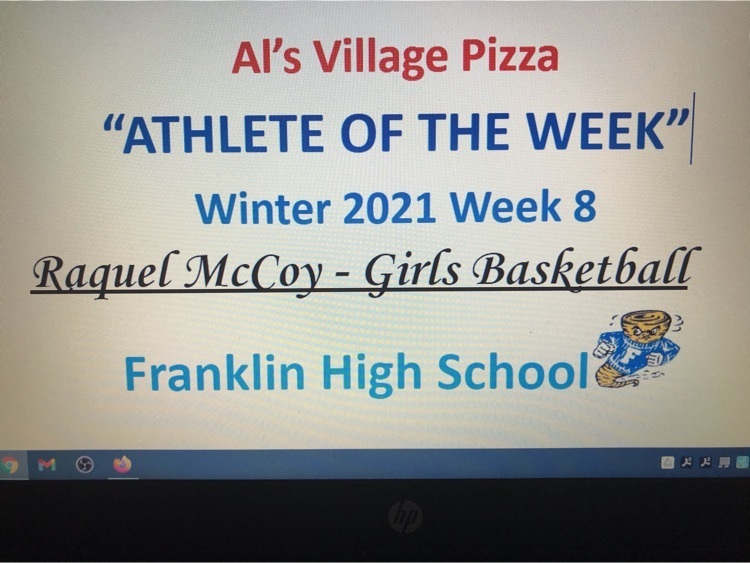 Bus 805 is delayed due to a mechanical issue. A replacement bus will be leaving the Middle School shortly. Have a great weekend!

Congratulations to ELIZABETH GUILLOTTE who was the Division 4 female recipient of the NHADA $500 scholarship! Proud of you Lizzy!

Thank you to everyone for a great winter sports season, especially your patience and cooperation with our spectator policy. PLEASE be sure that your child's entire uniform is returned to your coaches asap. We're still experiencing issues in getting uniforms returned and we would would appreciate your attention to this matter. Thank You.

Good Evening Franklin Families: I have just been informed of related positive student cases at both Franklin High School and Franklin Middle School. There has been no contact with any students due to vacation so we are all set for in-person learning tomorrow. Please remember to stay vigilant with our mitigation strategies: mask wearing, social distancing, and frequent hand washing and sanitization. Sincerely, Daniel LeGallo Superintendent

The FHS Player's are about to embark on their final spring production of the school year and this year, it is SWEENEY TODD! We are very excited to offer this opportunity to ALL 8th graders through seniors!! If you are interested in joining us, or ever wanted to try- there are auditions THIS SUNDAY- Feb. 28 from 2-4 pm. If interested, please sign up using the Sign Up Genius link:
https://www.signupgenius.com/go/10c0c4ea9aa23a2fbcf8-sweeney
The other option is an OPEN AUDITION on Tuesday, March 2 from 5-6 pm. Both auditions are at the Opera House in Franklin!! Any questions, please contact
jcfinley@gm.sau18.org

Male Athlete Of The Week

Female Athlete Of The Week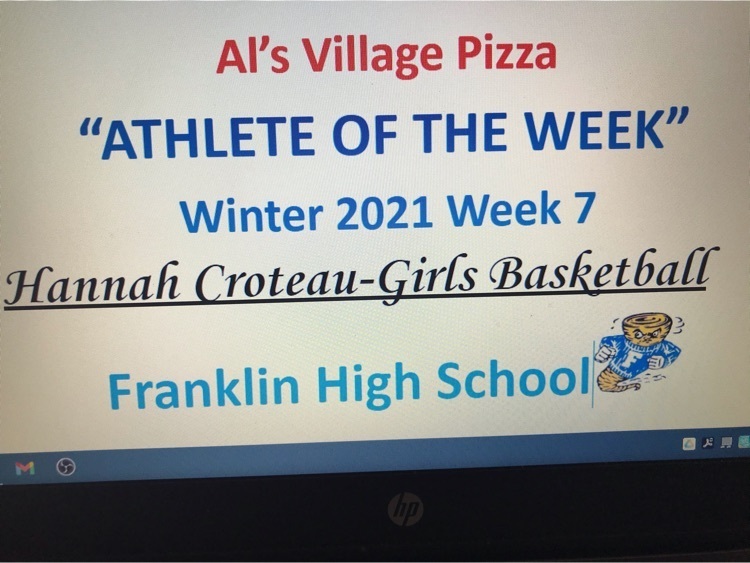 FHS varsity girls and boys basketball games tonight (2/22) are CANCELED. The girls game is rescheduled to tomorrow 2/23 at 5:00. The boys game will not be rescheduled

Al's Village Pizza and FHS Male Athlete Of The Week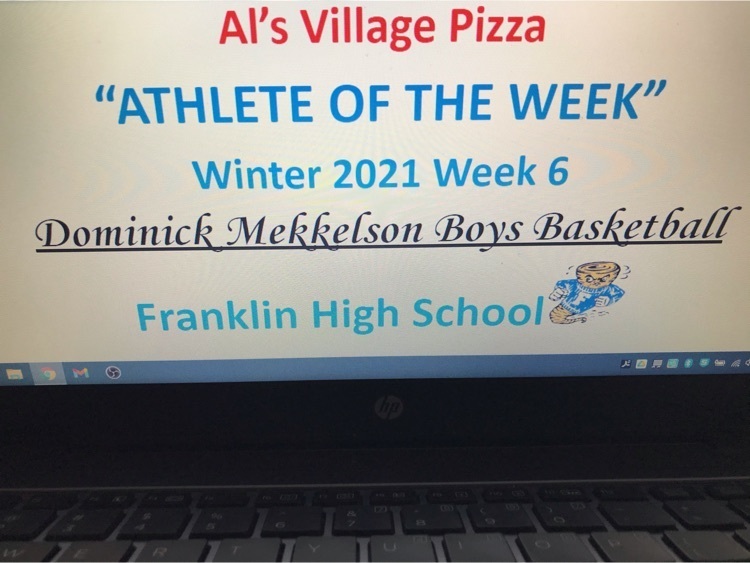 Al's Village Pizza and FHS Female Athlete Of The Week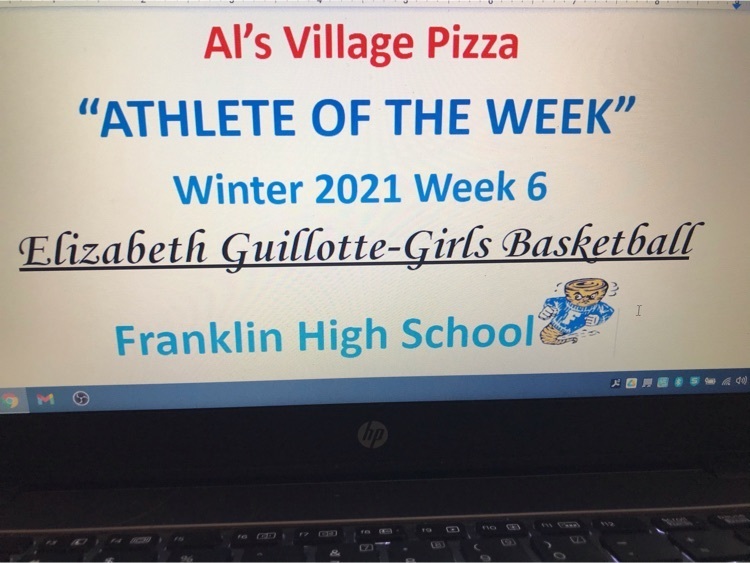 Tonight and tomorrow night, Feb. 19 and 20, at 7:30 both nights, seniors Riley Roper and Madison Clark will be sharing their original one act that they collaborated to write, produce and direct! Their piece, Anesthesia, will be shared with the public for two nights only at the Historic Franklin Opera House!

Good Afternoon Franklin Families: We will be fully remote tomorrow due to the storm. There will be no meal deliveries or pick ups.

Good evening Franklin Families, This is just a reminder that we have a remote day of school tomorrow in the Franklin School District. We will be delivering double meals tomorrow morning due to the potential storm coming Monday night into Tuesday morning. Our window at the middle school will be open for meal pickups tomorrow until 12:00. Stay tuned for further updates on the incoming storm.

Athletes Of The Week