Suicide Ideation and Self Harm Resources
Suicide Ideation and Self Harm Behaviors are all too common in today's culture. Franklin School District is no different.
The district policy regarding Suicide Prevention and Response can be found HERE. This policy outlines the legal responsibility for the district to provide prevention education annually to all staff, as well as other prevention efforts.
In 2017 the School Board approved the Suicide Ideation Protocol, (found HERE) which outlines specific steps that are taken whenever a student expresses suicide ideation verbally, in writing, through artwork, and in other ways. The district takes every expression of suicidal ideation seriously, even if the student says they are "just joking." Each instance is immediately screened by a counselor and communicated directly to a parent/guardian. Depending on the severity of the concern, intervention plan might include a follow up counseling conversation, referral to a community mental health professional, or immediate crisis assessment.
If you or someone you know is experiencing a suicidal crisis, reach out to: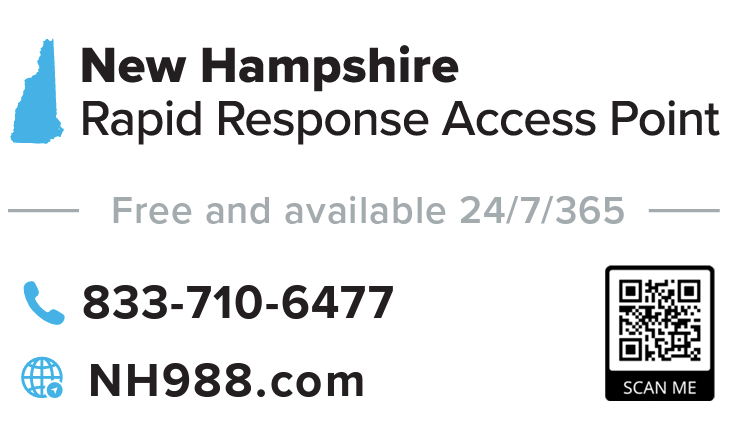 988: Call, text, or chat. 988 has been designated as the new three-digit dialing code that will route callers to the National Suicide Prevention Lifeline (now known as the 988 Suicide & Crisis Lifeline), and is now active across the United States.
When people call, text, or chat 988, they will be connected to trained counselors that are part of the existing Lifeline network. These trained counselors will listen, understand how their problems are affecting them, provide support, and connect them to resources if necessary.
Education and Prevention Resources
NAMI NH provides support for individuals experiencing mental health crisis and their families.
Connor's Climb The mission of Connor's Climb Foundation is to provide suicide prevention education by raising awareness, reducing stigma, and equipping youth, educators, and the community at large with tools and resources focused on the vulnerable age group of 10-24 year-olds, to New Hampshire and bordering communities.