Click HERE to register for this online conversation
Thursday, December 3, 2020 at 7PM via ZOOM.
Franklin School District has been using the Choose Love Framework to support social and emotional learning for students at all grade levels this year. This is an opportunity for families to learn more about this approach and how to support childrens', teens' and their own social and behavioral needs during this challenging time.
---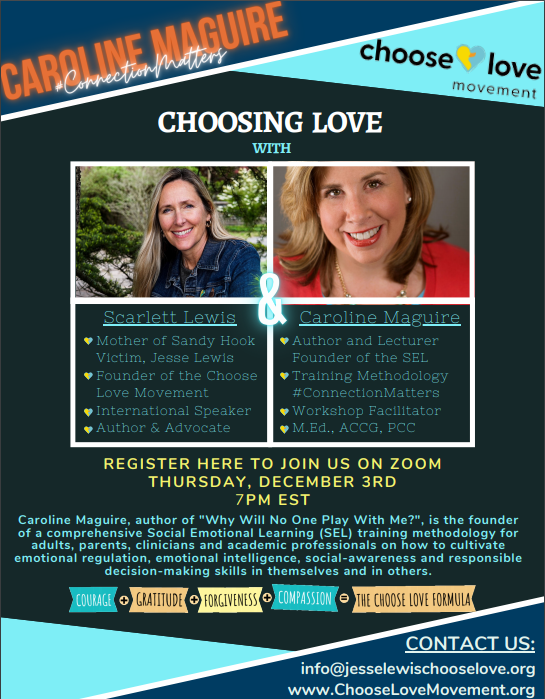 No one knows the implications of COVID, racial tensions, election fall out, school closures and openings that look different, lack of mental health supports, social distancing and social isolation on our children's mental health, social skills, academic performance and decision-making skills. The data is clear – humans require social networks and interaction. But what happens when children are starved of socialization or their mental health is not treated? What impact does this have on society?
Social, emotional and behavioral skills are more important - and more difficult to build - than ever before.
In this webinar, Caroline Maguire, M.Ed. and Scarlett Lewis will discuss the potential long-term effects of the pandemic on children's social, emotional, and cognitive development and what parents and teachers can do NOW to strengthen children's social skills. They will describe the red flags of exaggerated anxiety and isolation and explain how to use Why Will No One Play With Me? and the 4 core elements of the Choose Love Program to help children manage their behaviors and emotions, build healthy relationships and make good decisions.
Caroline Maguire, M.Ed., ACCG, PCC, is a graduate of Trinity College and earned her M. Ed. with a specialization in social emotional learning (SEL) from Lesley University. She is the author of the award winning book, Why Will No One Play With Me? and founder of a SEL training methodology #ConnectionMatters - both designed to teach emotional regulation, social and self-awareness and responsible decision-making skills. She founded the only Coach Training program accredited by the ICF, ADDA's The Fundamentals of ADHD Coaching for Families.